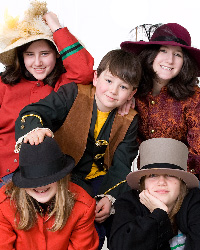 Summer Drama Camps 2019
When
Runs from Tuesday August 6 2019 to Monday August 12 2019
All Day Event
Venue
Performance Notes
×
We invite all kids aged 9-12 years of age to explore their dramatic side at the Ottawa Little Theatre!
- Make friends - Perform on the mainstage at Ottawa Little Theatre! - Imagine and create characters - Strengthen self-confidence - Develop listening skills - Work with costumes, props, sound effects, and lights
Over the course of our camps, students will be actively involved in the process of creating theatre. Through a variety of engaging theatre games and activities, students are encouraged to give voice and form to their imaginations. Such tools as improvisation, stage blocking, tableaux, and vocal exercises, help students build and develop fundamental theatre and teamwork skills. Work with scripted plays and dramatic scenes, opens their minds, and invites the communication of ideas in dramatic context as they work collaboratively toward creating a performance. The energetic rehearsal process culminates in a full camp cast performance, presented on the last day of camp to an invited audience of family and friends.
TO REGISTER, PLEASE CALL THE BOX OFFICE AT 613-233-8948.
Camp #1: August 6 - 9, 2019, $225.00 (Please note: This camp is 4 days due to the Civic Holiday Long Weekend.) Camp # 2: August 12 - 16, 2019, $275.00
Before and/or After Care: Before Care from 7:45am-9am: $18/week After Care from 4pm-5:15pm: $18/week Both Before and After Care: $30/week
About the Instructor:
Kenny has been reveling in Ottawa's theatre & music communities since 2013 after graduating with a degree in both from the University of Ottawa. His credits include: Kanata Theatre's 'A Flea in Her Ear' (CCC Award Nomination: Best Actor - Community), Ottawa Little Theatre's productions of 'Skin Flick,' 'Henry' (Nepean Little Theatre Award - Best Actor in a Leading Role), and 'Marion Bridge' (Armagh Sifton-Price Award - Best Original Song/Score), Orpheus' production of 'tick...tick...BOOM!', 'Drawn That Way' at the Ottawa Fringe Festival, 9th Hour Theatre Company's 'Prodigal Son' and 'The Lion, the Witch & the Wardrobe,' and Theatre Kraken's 'Crybaby' and their upcoming production of 'Lysistrata' which opens at the Gladstone in May.