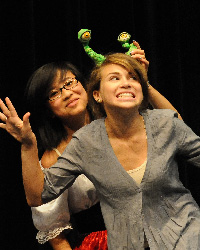 Youth Production Workshop 2019
When
Occurs on Monday July 22 2019
All Day Event
Venue
Performance Notes
×
For Youth Aged 13-17
Perform on the main stage at Ottawa Little Theatre for family and friends – with costumes, set pieces, lighting and sound effects. Over the course of this camp, students will learn what it takes to put on a production in each department, from acting to lighting to sound to set to costumes to stage management. Students will be divided into roles in each department and, will have the opportunity to indicate where they'd like to serve. This is the perfect camp for budding actors, designers and, technicians to come together and work as a full production team.
All Youth Workshops run for two weeks, from 9 a.m. to 4 p.m. Monday to Friday, with a Friday afternoon performance and reception starting at 4:45pm.
Before and after care is available from 7:45-9 a.m. and from 4-5:15 p.m. for an additional fee.
TO REGISTER, PLEASE CALL THE BOX OFFICE 613-233-8948.
Youth Production Workshop: July 22 - August 2, 2019, $500.00
Before and/or After Care: Before Care from 7:45am-9am - $36/workshop After Care from 4pm-5:15pm - $36/workshop Both Before and After Care - $60/workshop